"Oh no, There is dog pee in the carpet!" We all love our pets, dogs and cats, but sometimes they have accidents. Pet urine and odor removal is a specialty of ours. Check out this room that had strong pet odors, pet urine, and dog hair in carpet. Here is a before and after carpet steam cleaning along with a deep brushing of the carpet in Spring, TX.
Busy Bee Carpet Steamers is your carpet cleaning service company for dog and cat urine removal, pet odor removal, and pet hair. Our technicians will inspect all carpet areas in your home and confirm what treatments are needed before cleaning begins. There is a difference between only cleaning the carpets with a enzyme treatment and treating the carpets with a urine stain and contamination treatment plus a enzyme odor treatment. Do not be mislead be some carpet cleaning companies that a enzyme treatment alone will remove urine. That is false. If there is not any pet urine found, but there are some pet odors, a enzyme treatment is perfect. Enzyme kills the bacteria that produces the odors.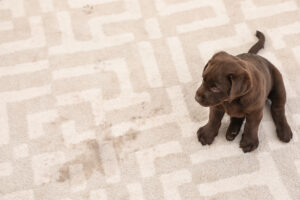 Here at Busy Bee Carpet Steamers in Cypress TX, we do provide a 30 day warranty with our urine removal treatments in most cases. Some carpets are heavily saturated down to the sub-floor in most areas and really need replaced. We do understand that most people are not in a position to replace there carpet and instead want a carpet cleaning, best job possible, with the pet urine and enzyme odor treatment. Our technicians can also replace the carpet padding if needed and then urine treat and steam clean the carpet.
Cat urine odor can be the most difficult to remove. Our carpet cleaning technicians in Houston TX will determine the trouble areas and treat the cat urine contamination. You will also be advised if the areas can be warranty through our carpet cleaning or if it is best to replace and treat the sub-floor and tact strips. If the technician warranties the cleaning, please do not hesitate to call for the warranty treatment. Busy Bee Carpet Steamers stands by its pet urine warranty.
Serving Houston, Cypress, Tomball, Spring, The Woodlands, Bellville, Magnolia, Conroe, Montgomery, Katy, Fulshear, Sugarland, Missouri City, Stafford, Porter, Hockley, Waller, Hempstead, Chappell Hill, Brenham