Specials and Pricing
Carpet Cleaning – Residential
Our basic steam cleaning for 3 rooms of carpet is $120. The above carpet cleaning prices include our citrus cleaner and conditioner solution for assisting in suspending up the soil and allergens for a good even steam cleaning. Any room over 225 sq.ft. is counted as 2 rooms. Stain treatments and deep scrub for heavily soiled carpets are additional fee. Look for us in service areas of NW Houston, Cypress, Tomball, Katy, Spring, The Woodlands, Magnolia, Hockley, Waller, Hempstead, Brenham, Montgomery, and Conroe. We are your Houston TX carpet cleaning service company.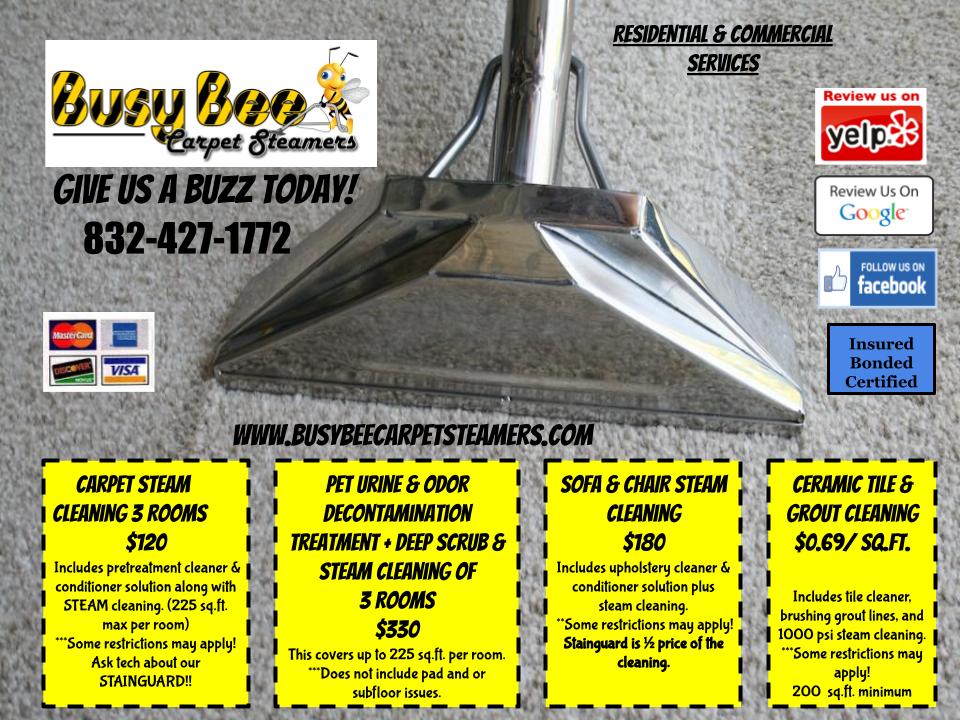 Tile & Grout Cleaning Service:
Residential tile cleaning service in Houston TX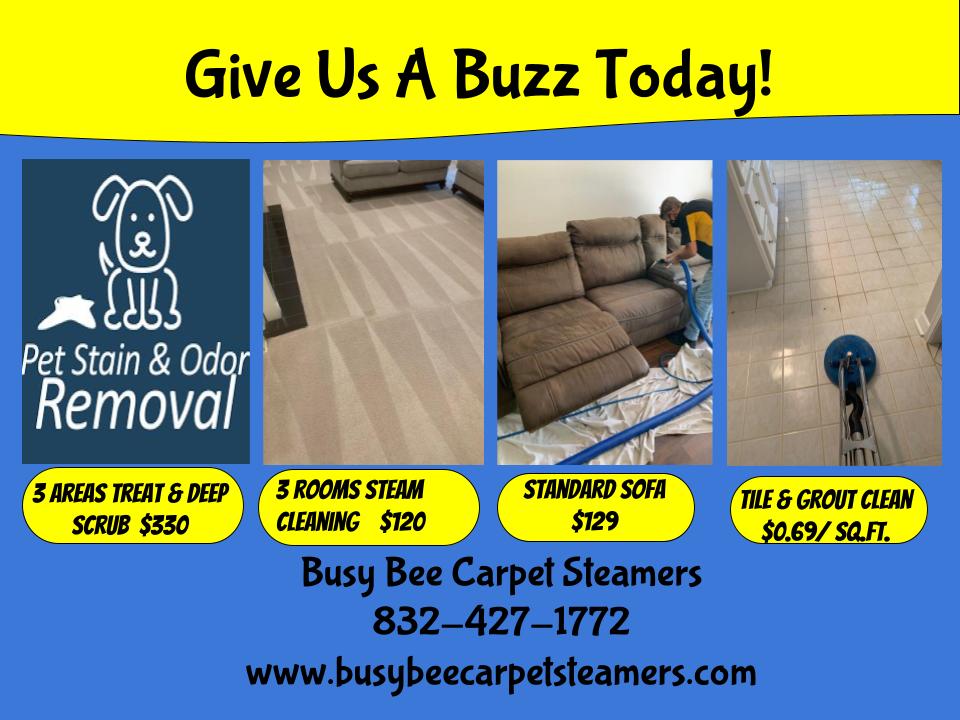 We are your local professional tile & grout cleaning service company. Looking for ceramic and porcelain tile flooring clean, look no further than here with Busy Bee Carpet Steamers. Locally owned and operated in Cypress TX and serving all surrounding areas. A tile and grout cleaner will be sprayed on the floor, brush all grout lines, and then power steam clean the tile floor. Reviews can be found on google, our Busy Bee Carpet Steamers yelp page, Facebook business page.
Upholstery Cleaning
We clean couches or sofa's, loveseats, chase, recliners, wing back chairs, dining room chairs, formal chairs, club chairs, theater seats, bar stools, ottomans, and sectional sofa's.
Technician will inspect all upholstery and confirm sizes, material, treatments, and pricing before cleaning begins. Some upholstery can not be steam cleaned, but only dry cleaned. Steam cleaning and dry cleaning prices are not the same. Keep in mind that a phone estimate is only a estimate. Until a technician puts his eyes on the material, pricing is not confirmed. You as a customer can also read the tags on your upholstery that should tell you the type of material and recommended cleaning process. This will help us in giving a better estimate over the phone.
Pet Treatments:
Urine removal & Odor treatment (Enzyme): $50/area (If more than 2
spots in a area, we will treat all exposed carpet in that area)
Enzyme Treatment only: $25/ area **eliminates odor, but not source of odor.
***Get a 30 day warranty with full urine removal & odor treatment plus a carpet sealer/ protector. **If any urine spots or odors come back within 30 days, we will retreat free of charge. (New spots will be charged)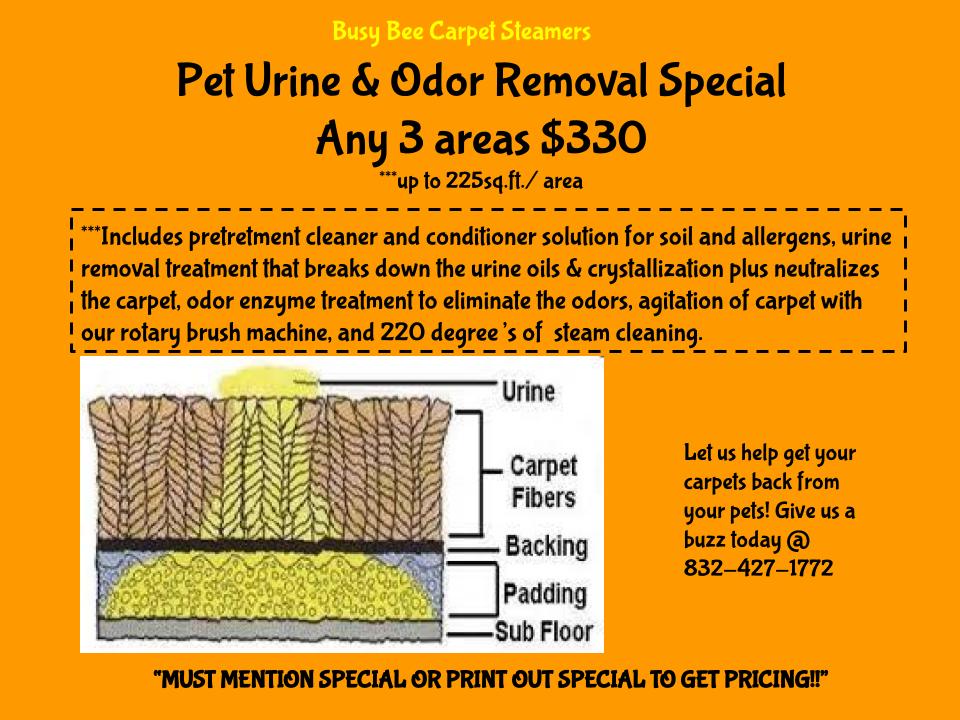 Busy Bee Carpet Steamers specializes in Pet Urine Removal & Odor treatment. We are not like most carpet cleaning companies when it comes to removing urine from your carpets. Most carpet cleaning companies do not inspect for urine in carpet. Our technicians inspect every customers carpet with a special tool that detects urine in carpet. If urine is detected, a special cleaner must be used to remove the urine safely and properly. Urine, blood, vomit, and feces are all considered a bio-hazard contamination and must be removed correctly. We will not clean the carpets if urine is not properly treated. The strong ammonia odor that is created from the bacteria that grows on urine is activated by the steam we use to clean with and will make anyone in the home sick at time of cleaning.
If at time of cleaning, full urine removal is out of budget, we must at least apply a Enzyme treatment that will block the strong ammonia odor releasing in the air when we steam clean. This is to protect anyone that is in the home during the steam cleaning from getting sick. Steam will activate the bacteria and a ammonia smell will be present.
Advance Teflon DuPont Stain Protector
Helps protect against stains from occurring and wear on carpet. By protecting your carpet, the life of your carpet will extend. Manufacturers recommend applying Protector on your carpet after getting getting them Professionally cleaned.
Pricing:
Carpet: $35 per room (Reg: $50)
Upholstery: 1/2 the price of the cleaning.

In Home Estimate / Trip Charge Fee:
Busy Bee Carpet Steamers charges a trip fee for in home estimates of $35 and will deduct fee from cleaning once job is completed. We also will charge a $35 fee for jobs that technicians go out to and customer decides not get cleaning done. At time of scheduling appointment, an associate will go over the general cleaning price and any possible additional fee of special treatments such as pet urine and odor removal. Here at Busy Bee Carpet Steamers, we strive to make sure that all customers are aware of all possible fee's at time of scheduling appointment. Customers should NOT be blindsided by pricing when technician arrives.