Carpet Steam Cleaning Is Best Performed By Our Techs Here at Busy Bee Carpet Steamers a Local Company Here In Houston, TX.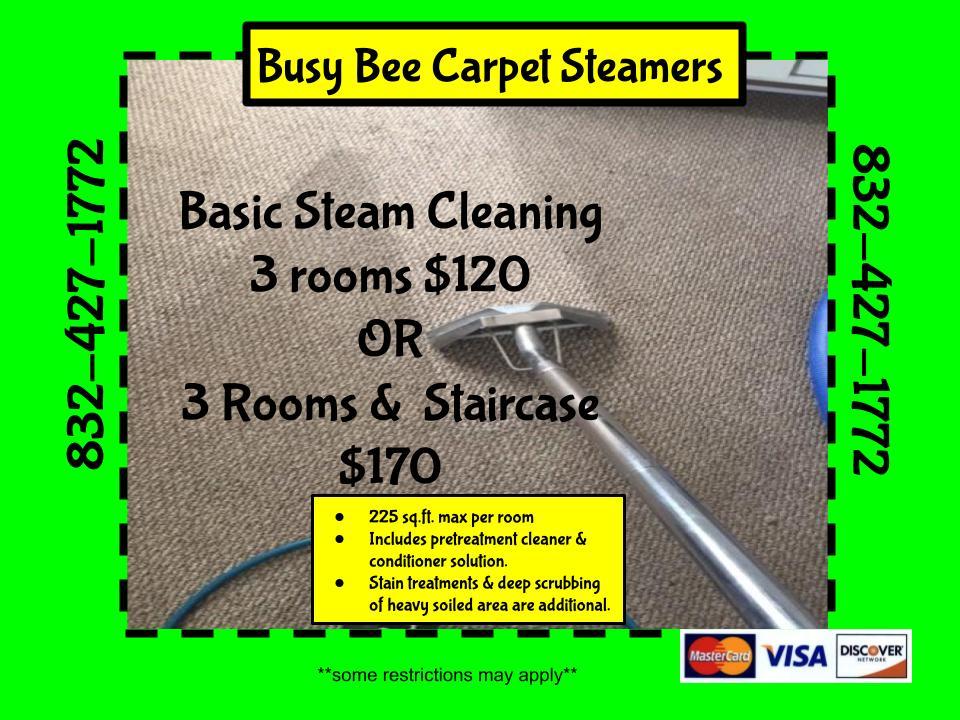 ***Note: Most carpet manufactures void warranty if carpet is not professional cleaned by STEAM cleaning. There are a few different types of carpet cleaning methods. The one method that has been around for years is bonnet cleaning for low moisture and quick dry times. The issue with bonnet cleaning is that shampoos are mostly used and not fully extracted. Therefor, rapid re-soiling occurs from the existing shampoo and sticky residue.
Carpet Steam Cleaning Process:
1. Technician Inspects Carpet for Spots, Stains, and any condition of carpet.
2. Spot Treatment-clean spot in carpet and determine if is a stain or not.
3. Pretreat all carpet with our organic cleaner to help loosen dirt, allergens, dust mites, dandruff, and other foreign substances embedded. (NO sticky Residue left behind)
4. Steam clean ( approx. 220-230 degrees) and rinse out the carpet fibers of all allergens, dust mites, soil, dandruff, and any other foreign substances track in to the home or business.
5. Extract the dirt, allergens, dust mites, dandruff, other foreign substances when rinsing.
6. Groom the carpet. This opens up the carpet fibers which helps in the drying process. (Dry time is typically 6 – 12 hours.)
****Extra process (additional price)- Speed Dry – set up a couple of fan blowers to assist in the drying process.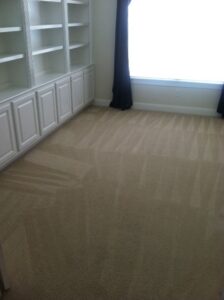 Carpet Drying Process:
Here at Busy Bee Carpet Steamers we make several dry strokes with our cleaning wand to remove as much moisture as possible.
In most homes, the carpet dry time is 6-12 hours. Some carpets may dry sooner and some can take longer depending on many variables such as thickness of carpet, air temp in home, deep cleaning or special treatments in carpet, and traffic on carpet after cleaning is complete.
Carpet dries faster with airflow. Keep A/C at a comfortable temperature and household fans circulating to assist in the drying process.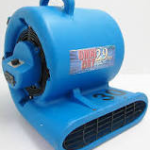 We do offer speed drying services for the areas of your concern. We place a couple of high speed blowers in rooms to speed up drying process.
Carpets should not stay wet for over 24hrs.
Equipment Used for Cleaning:
A Commercial high power Truckmounted machine is used in the cleaning process of your carpets.***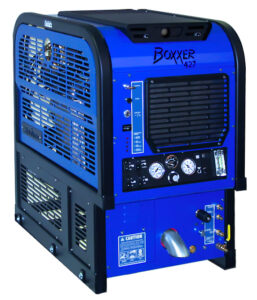 Truckmounted cleaning is much faster than portable equipment and extra heat and power can give better results and faster drying times.
We hook up a water hose to a faucet at house or business and run fresh water to machine.
Vacuum and solution hoses are ran from van to house or business for the cleaning carpet cleaning process.
The dirty water is then extracted back to the van and dumped into a dirty water tank.
A carpet cleaning wand is used for most carpet cleaning. In some cases of heavily soiled carpets, a rotary cleaning machine is used for extra deep scrubbing and cleaning.
Please check out our "SPECIAL'S" page for great deals on our carpet cleaning in Houston, Upholstery cleaning, and Tile & Grout cleaning. We do service Houston, Cypress, Tomball, Spring, The Woodlands, Bellville, Magnolia, Conroe, Montgomery, Katy, Fulshear, Sugarland, Missouri City, Stafford, Porter, Hockley, Waller, Hempstead, Chappell Hill, Brenham
If you would like an estimate please call (832-427-1772) or email us at info@busybeecarpetsteamers.com Please check us out on Yelp.com, YP.com, and Facebook.